Galleries – Portraits (Traditional)
Having trained as a young boy in the representational tradition under the tutelage of my mentor, the 20th century realist master, Alton S. Tobey, I still take to heart Tobey's teaching – that every element of the canvas, the colors, the brushstrokes, the background, props, etc., should all "tell the story of the subject – reveal something about her or it – everything in the painting, from the choice of color, to the objects in the composition should tell the story". In my portraiture, whether I am painting a traditional oil or working in the more contemporary vein of my mixed media digital collage paintings, I always try to go beyond the mere representation of a likeness, I try to reveal something of the life, story, soul and character of my subject.
I do consider custom portrait commissions. If you are interested in commissioning a piece please contact me.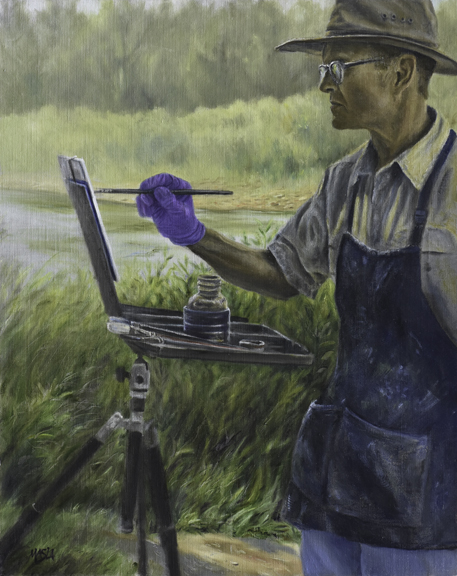 From the Unrecognized Essential Workers Series: Artists – At a Distance, Painting with Artist John MacDonald
oil on 20″ x 16″ linen panel
John is a good friend and colleague, and an amazing landscape painter and instructor. He has been teaching at my Studios South, Casa de los Artistas, for a number of years. He lives about an hour from my home and Studios North in Ashfield, MA and we try to get together during the spring, summer and fall to paint together in plein air. There are some wonderful spots along the Deerfield River midway between our homes and we'll often meet there. The 2 paintings below are part of the process that i did to arrive at the painting above. The first below is a plein air watercolor I did of John when we met for a couple hours along the Deerfield earlier this summer. We often talk about philosophy, painting process and technique, etc. Somewhere along the way that day we returned to the subject of composition and values, the foundations of strong painting. We have often discussed the challenge of doing that in the limited window of a plein air painting, (among all the other elements involved), and wouldn't it be wonderful to come to the scene with those to elements already resolved. I decided this time to act upon our discussion, so before ending our session I took a few reference shots of John to use with the plein air watercolor sketch to create the oil painting above.
The second image below is the tonal underpainting of the painting above. First sketching the image on the canvas roughly with pencil to map the composition, then, with a water-soluble graphite pencil as accurately as possible, and then applying water to create a tonal "ink wash". I then, having both the watercolor of John and 2 photos of John on my monitor, I  created the tonal underpainting with raw umber and white. This was done, as you can see below, in full detail and could be considered a "finished" tonal painting if one wanted to stop there. I might point out, this is very similar to the process of the origins of oil painting in the west, (attributed to the Netherlands), where the artist would do a detailed, sketch, transfer it to a prepared panel, ink it in, and then add a tonal Verdacio underpainting, (believed to be mixed from yellow ochre, lead white and carbon black, creating a grayish green tone) – thus the emphasis and importance in naturalistic representational painting, of composition and value, (repeated 3 times, from sketch to ink to verdacio). Sometimes the verdacio was done with tempera to speed the process (drying). Finally adding layers of oil glazes on top.
In the instance of the painting above, I spent a good deal of time rendering the tonal underpainting, (using raw umber, white and a touch of black on occasion – instead of the verdacio), when this was dry, I arranged to meet John for 2 more 2 hour sessions at the spot along the Deerfield river to apply glazes of color and impasto, (thicker paint). In honor of John, I was careful to handle the background landscape in a tonal sfumato approach, similar to Johns' style, (and spiritual expression of landscape) and his admiration of the tonalists, particularly Inness.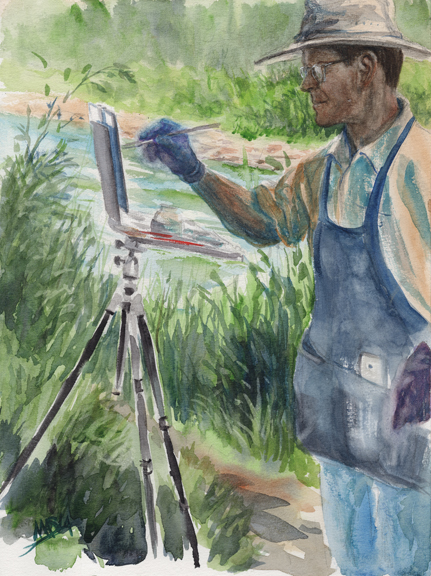 At a Distance, Painting with Artist John MacDonald
Plein air watercolor on 9″ x 12″ Rembrandt cold press paper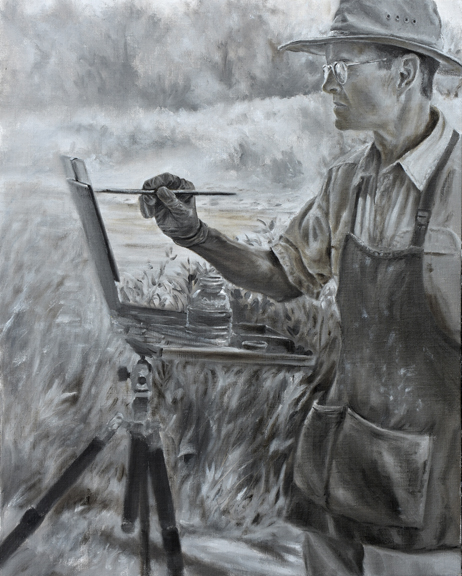 In Process, from the Unrecognized Essential Workers Series:
Artists – At a Distance, Painting with Artist John MacDonald,
raw umber and white oil underpainting on 20″ x 16″ linen panel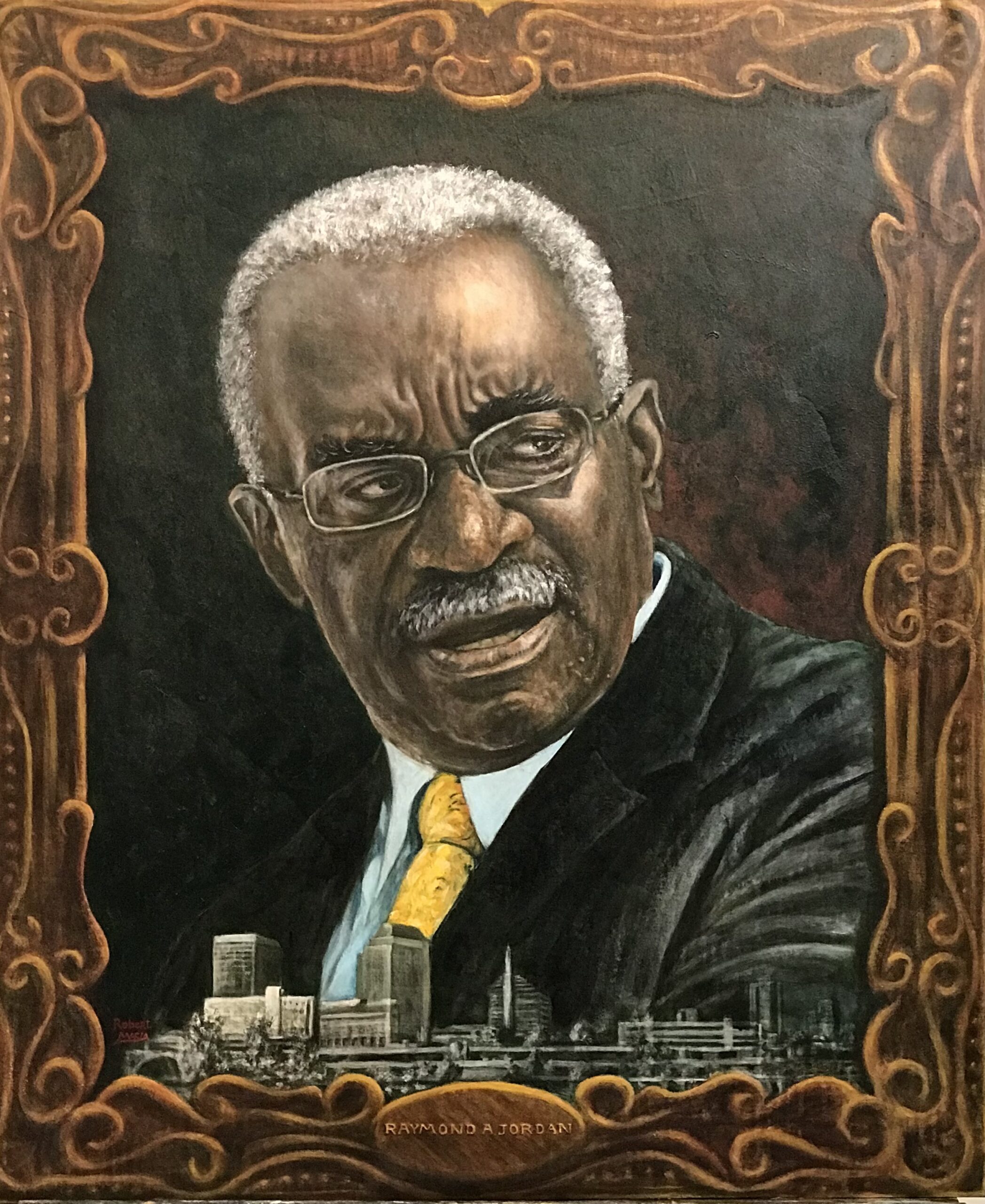 Raymond A. Jordan, (above) Ben Swan (below). Each painting is 36″ x 30″ done with acrylic on special prepared mural canvas, (parachute type material).
These paintings where done for MassMurals/FreshPaint Springfield as part of a revitalization project and to honor civic leaders of color both past and present active in the city of Springfield MA. I was honored to be a part of this project honoring these people who have stood up for civil rights and against oppression. So important at this dangerous time in our nations history when a large portion of political opportunists and there supporters are trying not only to downplay and erase history in front of our eyes, but to turn back the clock of Democracy and human social/Spiritual evolution. They are now hanging on the "Wall of Fame" in Mason Square, Springfield, MA.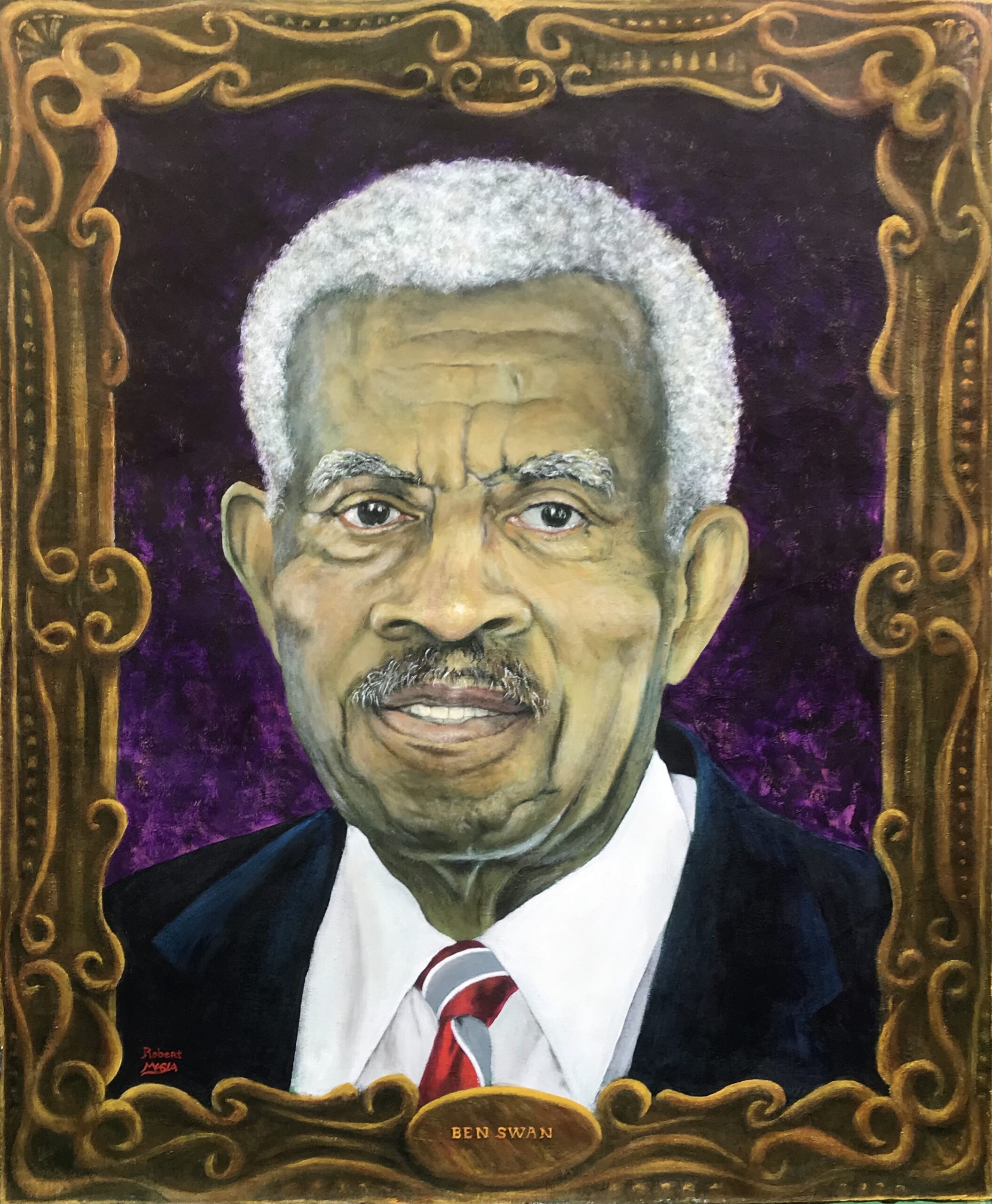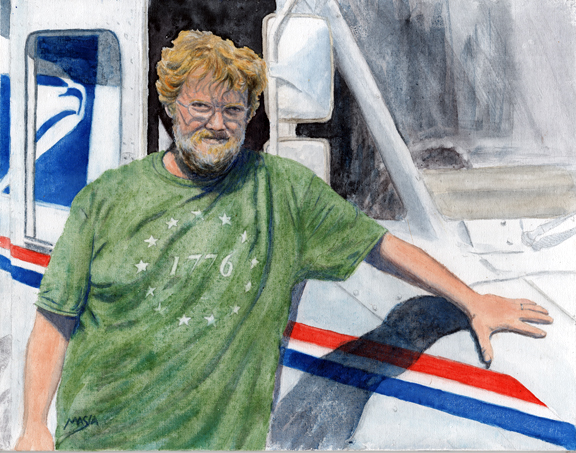 Unrecognized Essential Workers Series: Postal Workers, (William)
watercolor and gouache on 11″ x 14″ Fredrix watercolor canvas on panel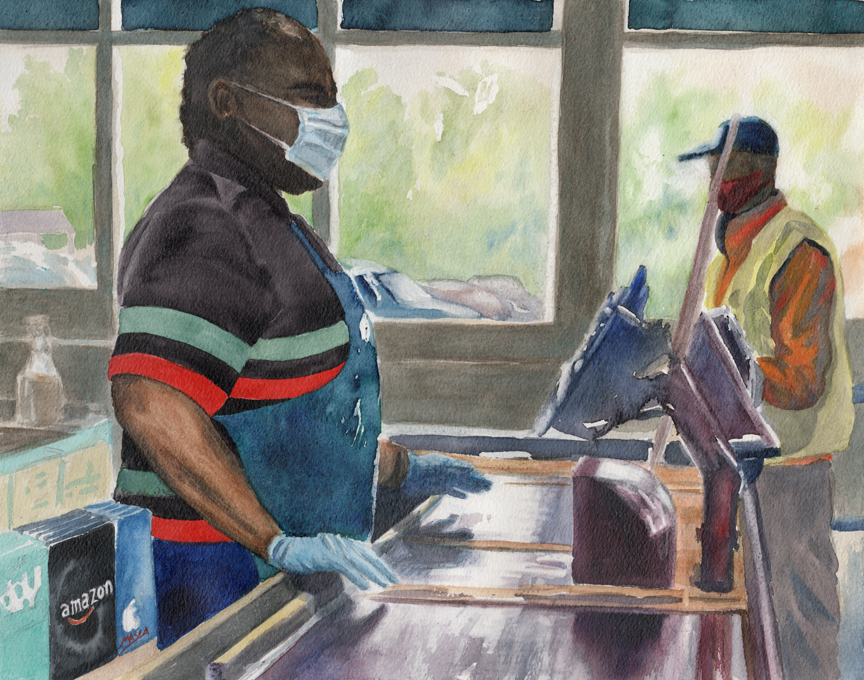 Unrecognized Essential Workers Series:
Grocery Clerks, (Amazon Employees)
watercolor on 11″ x 14″ rembrandt cold press paper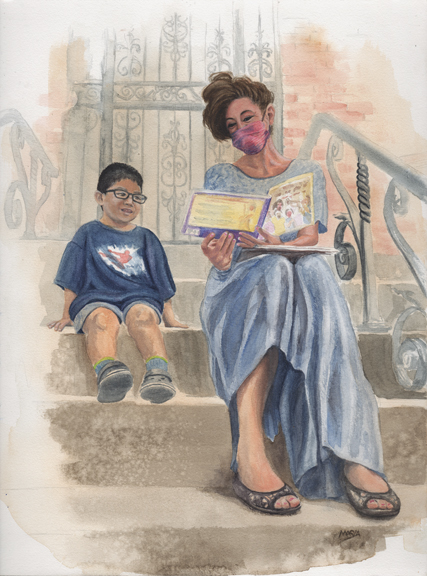 Unrecognized Essential Workers Series: Teachers, (Aiyana)
watercolor on 15.75″ x 11.75″ rembrandt cold press paper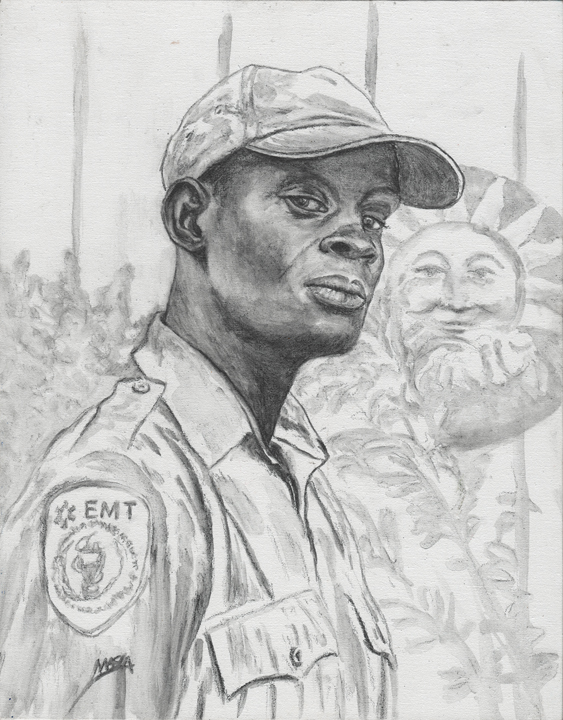 Unrecognized Essential Workers Series: EMT, (Gede)
Graphite wash on 14″ x 11″ on Fredrix watercolor canvas panel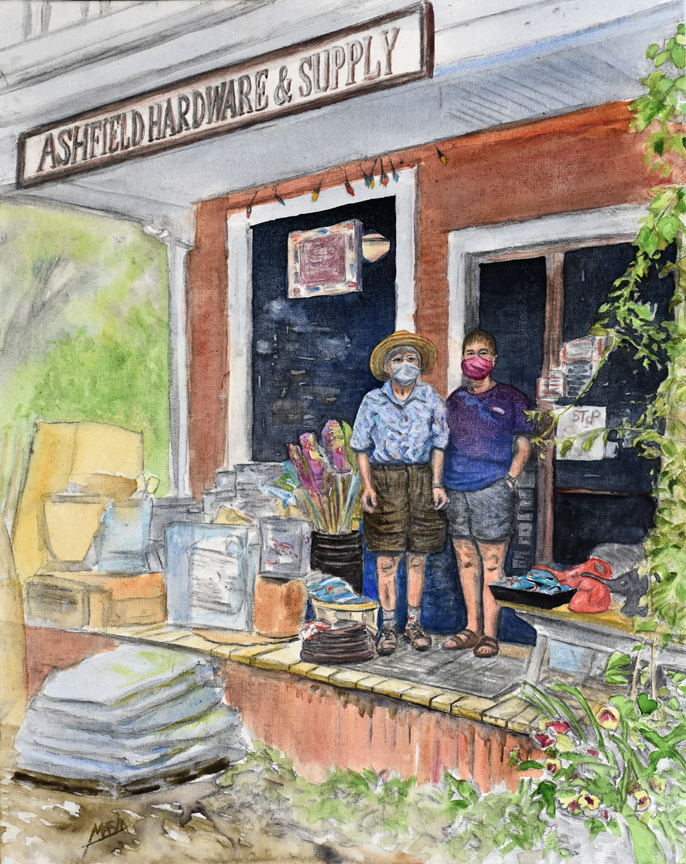 Unrecognized Essential Workers Series:
Essential Goods and Services, 
– Satch (Nancy), and Laura of Ashfield Hardware
watercolor and gouache on 20″ x 16″ Fredrix all media canvas paint board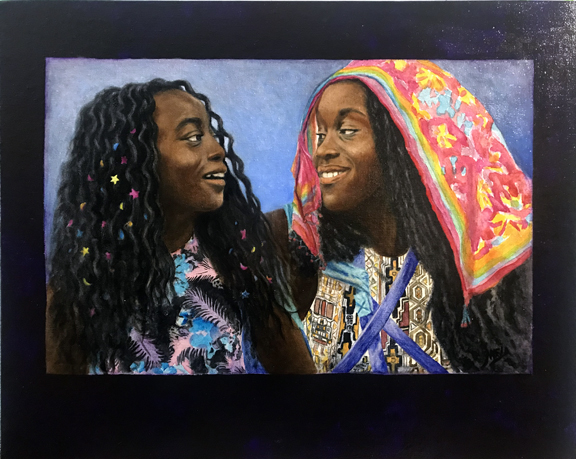 Twins, At What Age do We Become Dangerous
Watercolor and oil on 20″ x 16″ Fredrix all media canvas paint board
This was done for my son in law Gedezou, (Gede – see EMT above) as a surprise gift for his twin sisters birthday. A painting of her twin daughters, we had to "trick them into posing without knowing it. They were just entering their teen years at the time and we had them all over for a barbecue. My oldest daughter, Aiyana, (see Teachers above), in her wonderfully theatrical way, convinced them to play a game involving raiding our "dress up box" and strike poses, (a trunk we have kept all kinds of clothing in since the kids were little for theater games, still used when we get together). I said, let me grab my camera, (it all looked and felt very spontaneous to them). I shot a few dozen photos and was able to get 2 or 3 that became the combined basis for this painting.
Seeing these young, innocent, loving girls engaged in imaginative creative play was so much fun. I couldn't help but think of the projections that would be thrown on them in the not too distant future. The title came from a post I saw on Facebook around the time of the murder of George Floyd. A black woman posted a photo of herself as a little girl with the caption: "At what point did I become dangerous?"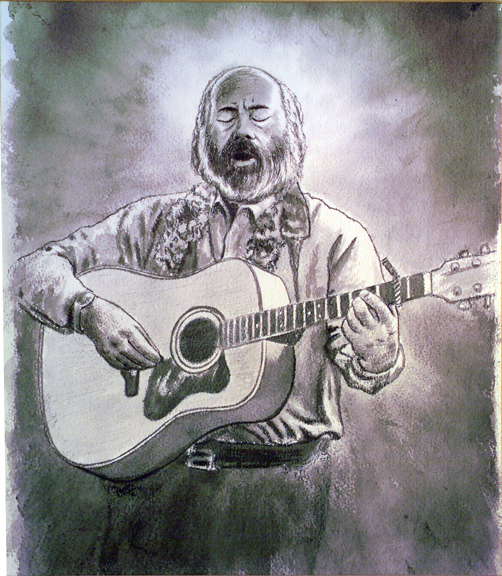 At Our Wedding, (Reb. Carlbach)
Ink wash on 14″ x 12″ cold press paper
This page is updated regularly, please return again soon